Last Sunday we made the trek out to Waddesdon Manor and Stowe Gardens in a wider exploration of perceptions of nature in the 18th and 19th centuries.
As an American whose prior interaction with British landscapes primarily consisted of watching various movie adaptations of Jane Austen novels, this was a very exciting and informative experience for me.  One of my first impressions of the two sites was that one was clearly less 'natural' than the other.  At Waddesdon Manor, not a single leaf was out of place, exotic birds were housed in an elaborate golden cage, vines were growing in an aesthetically pleasing but highly improbable geometric pattern up the side of one of the manor towers, and even some of the rocks turned out to be fake.
Waddesdon Manor. Not a leaf was out of place and vines grew in a highly improbable geometric pattern on one of the towers.
Compared to this, Stowe Gardens initially felt like a breath of fresh air, with landscapes that much more resembled familiar movie scenes, grazing sheep, and mellifluously flowing water.  There were just a few buildings sprinkled in, with charming names such as the "Temple of Friendship" or the "Temple of Liberty."  However, as our tour carried on, I became increasingly aware that the gardens were not that natural at all – indeed, the setup was about as carefully planned and artificial as the playing board for Candyland.
These 'temples' were important spaces for political conversations, and they were named, arranged, and embedded in nature in ways to best facilitate this.  The 'nature' part of the grounds was also less natural than I had originally thought; one body of water had been darkened with black sand, a so-called Ha-ha did a wonderful job of simultaneously controlling the sheep and tricking my eyes, and the Grecian Valley was built by Capability Brown specifically to 'improve' upon nature.  Is Candyland so very different, with its various pit stops (e.g. Licorice Castle, Lollipop Woods, and Molasses Swamp), colorful winding paths to optimize a pre-planned 'view' of Candyland, and its premise to bring spectacles from our dreams to life?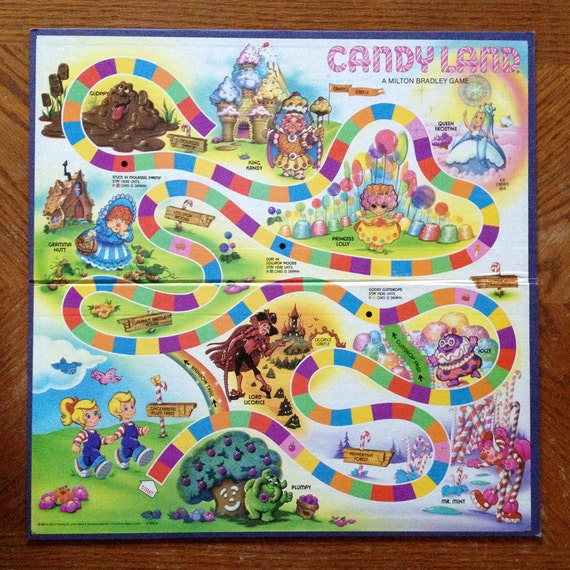 An aerial map of Stowe Gardens (top) shows a layout of controlled nature with planned points of interest sprinkled in, not too dissimilar to the layout of the board game Candyland (bottom).
Overall, this trip fit well into our recent discussions of 'what is nature?' which had been a focus across several modules leading up to this study day, and I probably left Waddesdon and Stowe with more questions than answers about nature.  Regardless, these sites illustrated the value of considering how perceptions of nature are formed and how these perceptions influence the landscapes around us, whether they are blatantly controlled landscapes, more subtly designed landscapes, or a sugary board game designed for children.
Images: Wikipedia, http://www.nationaltrust.org.uk/stowe (edited), Etsy.